CFPA oil transfer
Cromarty Firth Port Authority (CFPA) - application for licence to carry out ship-to-ship oil transfers off the entrance to the Cromarty Firth.
Under the Merchant Shipping (Ship-to-Ship Transfers) Regulations 2010 and amendments, Cromarty Firth Port Authority has applied (December 2015) to the Maritime and Coastguard Agency for an Oil Transfer Licence. The licence is required for transfer of oil between vessels within the jurisdiction of the Port of Cromarty Firth.
The CFPA website contains an overview of the application and links to the full document and appendices.
Local group Cromarty Rising is leading the local opposition to the licence application, and posts regular 'Oil Leaks' news updates on its website.
------------------------------------------------------------------------------------------
Moray Firth ship-to-ship oil transfers plan abandoned
BBC News 4 December 2018
"A port authority has abandoned a controversial plan for ship-to-ship transfers of oil in the Moray Firth. Invergordon's Port of Cromarty Firth has now announced that it was no longer pursuing a licence for the operations. Environmental campaigners who opposed the proposal have welcomed the decision.
"Ship-to-ship operations involve one cargo ship transferring crude oil or other petroleum products to another vessel while they are moored alongside. Carried out at sea, the transfers mean products can then be moved to more than one port, and also avoids the need for berthing charges. However, opponents have concerns about the pollution risk posed by spills.
"In a short statement, the Port of Cromarty Firth said: 'Due to higher priority projects the port will not be pursuing the resubmission of our ship to ship at anchor application.' "
------------------------------------------------------------------------------------------
March 2017
Petition against oil transfers handed in to Highland Council
A petition with nearly 100,000 signatures protesting against the Port of Cromarty Firth's plans for ship-to-ship oil transfers off the mouth of the Cromarty Firth was handed in to Highland Council last Thursday 16 March. Cromarty Rising described it as

"A good natured event – we thank Council leader Margaret Davidson for having the good grace to accept our petition"
"This will send a peaceful visible message showing the strength of feeling of communities and businesses against ship to ship crude oil transfer operations."


The petition can be signed at:
https://you38degrees.org.uk/petitions/danger-to-sea-life-from-oil-spills?bucket=blast
----------------------------------------------------------------------------------------------
Cromarty Rising attend committee and hand in petition at the Scottish Parliament, prior to a debate in Parliament this week.
Representatives of Cromarty Rising were in Edinburgh last week (16 March) at the invitation of the Scottish Parliament Petitions Committee to give evidence as witnesses in relation to the Scottish Parliament petition.
"We felt it was well received with the committee giving us a fair hearing and asking some well considered questions. The outcome is that the committee will write to the Scottish Government but also a number of agencies involved in STS such SEPA, SNH and the MCA etc".
Also last week, the Oil Transfer petition to the Scottish Parliament was handed in and accepted by John Finnie MSP, who also, with Kate Forbes MSP, supported the cause by attending the Petitions Committee and commenting "The petitioners should be commended for the articulate case they made before the committee".
For more news and comment on events in Edinburgh and the campaign generally, see this page on the community news site Inside Moray.
The Scottish Parliament's business programme for next week includes a debate called by John Finnie, on Ship-to-ship oil transfers in the Cromarty and Moray Firths on Wednesday 22 March at 5.00, under the heading of Members' business.

--------------------------------------------------------------------------------------------------------------
March 2017 New licence application, but not till June
The Port Authority has confirmed that no new licence application will be submitted before June. Some Highland councillors had expressed concern that significant developments might take place while the council was in limbo as a result of the council elections in May.
In the spring issue of 'Port News' the Authority says
"A refined application has been prepared and is currently under review before being submitted to the Maritime and Coastguard Agency (MCA). The Board is committed to continue the application process with a view to providing us the opportunity to recover the lost revenues from activity at the Nigg Oil Terminal. This journey will take several months still to complete and ultimately the MCA will decide the outcome."
February 2017
Martin Sherring has forwarded an email from the Maritime and Coastguard Agency, the body which will decide whether to grant the application by Port of Cromarty Firth for a licence to carry out ship-to-ship oil transfers off the mouth of the Cromarty Firth. The Agency states that after an initial assessment "a number of areas were identified as needing additional thought", and it has required the authority "to deliver a more refined and comprehensive application in the near future."
There is perhaps some consolation in the implication that at least the most damaging aspects of the original proposal may be addressed, but the overall prospect is not good. In calling for a modification of the application rather than rejecting it, the Agency clearly suggests that they are likely to approve a new application when it is submitted.
Here is the full text of the email:
"Dear Respondents,
The Maritime and Coastguard Agency (MCA) welcomes and appreciates the expertise and contributions of all those involved in the public consultation surrounding the Cromarty Firth Port Authority's (CFPA) Ship to Ship Oil Transfer Licence Application which ran from 10 December 15 to 8 February 2016.
The MCA undertook an initial assessment of the application taking heed of all public representations and those received from Scottish Environmental Agencies, Local Government Authorities and Wildlife NGOs who chose to comment. Notwithstanding the closure of the public consultation on the 8 Feb 16, public representations have been received and accepted via a number of routes since. Your concerns with the potential impacts that may emerge if the application is approved are acknowledged and, in concert with all other representations received, have been and will continue to be thoroughly considered.
Following the MCA's assessment a number of areas were identified as needing additional thought. As a result of this, a package of work was been agreed with CFPA; the outcome from this is due to deliver a more refined and comprehensive application in the near future.
The MCA has continued to engage with the Department for Transport and CFPA in order to establish the best way forward once the application is resubmitted. As a consequence, the MCA has directed CFPA to withdraw the oil transfer licence application made in December 2015 and submit a new application. Once this is received a further public consultation based on this new application will be undertaken. The full involvement of the Scottish Government, appropriate environmental agencies and bodies, wildlife organisations and local residents will be sought before a decision is made by the MCA on behalf of the Secretary of State. Final assessment and determination of the application will take full cognisance of all environmental, economic and social implications that may emerge. The Scottish Government will be informed of the final determination before it is made public.
If you would like to respond to this new consultation once it is launched, please follow the instructions which will be published as part of the consultation process.
Yours Sincerely,
Stan Woznicki
Head of Branch - Counter Pollution & Salvage
Maritime and Coastguard Agency".
-------------------------------------------------------------------------------------------------------------
January 2017 MSPs join Scottish Parliament protest
BBC News Thursday 12 January
Fresh protest opposing Moray Firth ship-to-ship transfers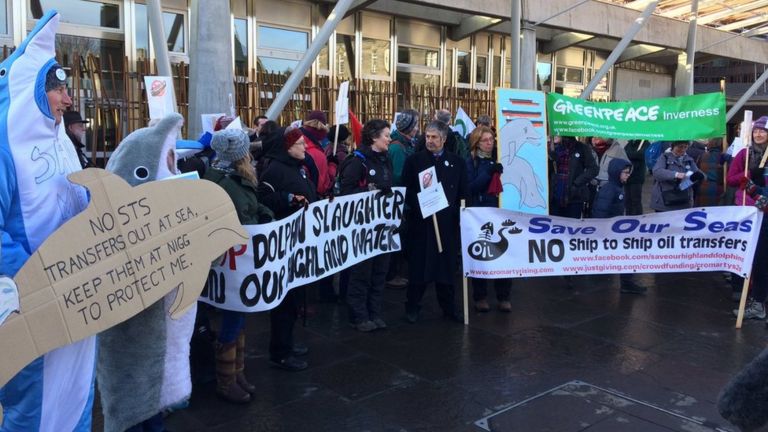 "A protest has been held outside the Scottish Parliament to raise awareness to opposition to plans for ship-to-ship transfers of oil in the Moray Firth.
Cromarty Firth Port Authority wants permission to transfer millions of tonnes of crude oil at sea.
Campaigners around the Moray Firth said the risk of an oil spill would be catastrophic to the marine environment.
The port authority said it "fully appreciated" the environment it operated in was "extremely special".
The demonstration outside the parliament building in Edinburgh was supported by Green MSP John Finnie, SNP MSPs Kate Forbes and Gail Ross and Scottish crime writer Ian Rankin.
The author told BBC Scotland: "I know Cromarty and the Black Isle very well, I've been going there for years. I know the people up there and nobody wants this.
"It could be disastrous. One accident could destroy the ecosystem, or set it back decades." "
Read the full story.
-------------------------------------------------------------------------------------------
Sunday 11 December 500 in Nairn beach protest
Pictures from Cromarty Rising

Tuesday 13 December Ilona Amos wrote in the Scotsman about the Nairn protest and the campaign against the transfer plans:
"The seas around Scotland are wonderfully rich in marine life, including many rare species as well as some of the world's best loved and most charismatic wildlife. Consider the Moray Firth, which has become famous for hosting the planet's most northerly resident population of bottlenose dolphins. These intelligent and playful creatures enjoy celebrity status, with visitors travelling from far and wide to enjoy their crowd-pleasing antics. There may be only around 130 of them, but analysis shows these few individuals bring in at least £4 million a year to the Scottish economy, part of a burgeoning wildlife tourism industry that generates more than £65m annually.
"It was these dolphins that lured more than 500 folk down to Nairn beach at the weekend. They weren't there to take pictures and umm and ahh at displays of aquatic acrobatics, however. They gathered to demonstrate opposition to proposals from the local port trust to allow ship-to-ship transfers of millions of tonnes of crude oil in waters where the dolphin pods eat and breed. The Port of Cromarty Firth has applied for a licence to the maritime and Coastguard Agency for 48 transfers of crude oil annually, with an estimate worth of around £750,000 a year. Cromarty is the leading cruise port serving the Highland region, welcoming 63 ships carrying 96,500 passengers this year. But the trust is seeking new income streams to replace falling revenue after the Beatrice oil field closed down in 2015. They says oil transfers offer a crucial lifeline for the region, securing local jobs and bringing in much-needed investment.
"A consultation on the proposals ended in February and attracted around 340 responses from organisations including community councils, the Scottish Wildlife Trust, Scottish Environmental Protection Agency, Scottish Natural Heritage and Whale and Dolphin Conservation. Objectors believe operations, which will see more than eight million tonnes of oil transferred between tankers while anchored in the Inner Moray Firth, pose an unacceptable risk to dolphins and the wider environment. Locals and activists from the campaign group Cromarty Rising fear toxic fumes given off while shifting the oil could cause long-term health problems for marine mammals, while even minor oil spills would severely damage the entire marine ecosystem. They claim increased shipping traffic will create hazardous levels of underwater noise, which can be damaging to cetaceans. On top of that, nearly two million tonnes of dirty ballast water, which could contain harmful contaminants, will be discharged into the firth each year. They insist they support sustainable development so long as it's "the right plan in the right place", and believe transfers could be safely carried at Nigg oil terminal, where proper air and water controls are in place.
"A revised licence application is expected early next year, but campaigners fear their views will be ignored in favour of fiscal gains. They have begun preparing a war chest, with plans to launch a legal challenge if the transfers get the go-ahead. They have already raised half of their initial £30,000 target. They are also calling for Scottish ministers to intervene in the case, even though it is not a devolved issue.
"Surely it's best to err on the side of caution – we don't want our own mini Deepwater Horizon disaster. If the transfers were to be handled at Nigg then the port could have it's cake and eat it."
http://www.scotsman.com/news/opinion/ilona-amos-caution-needed-over-moray-firth-oil-transfers-1-4316765
--------------------------------------------------------------------------------------------------------------
September 2016
Public meeting Tuesday 4 October West Church Hall Cromarty 7.30
Ship to Ship oil transfer application update
Open debate and guest speakers, includng Cromarty Rising representatives, Paul Thompson and more.
Cromartyrising has engaged the services of London legal firm Bindmans, who have written to Chris Grayling, Secretary of State for Transport, outlining the legal arguments against the application; and Cromarty District Council has sent a letter to the Port Authority asking them to withdraw it.
Cromartyrising has emphasised the danger posed to the maritime environment by discharged ballast water (a significant part of the case against the oil transfer application), and drawn attention to the failure of the UK government to ratify an International Maritime Organisation convention on ballast water treatment. This issue was taken up by Greg Russell in The National on 2 September.
The Maritime and Coastguard Agency provide a simple outline of the need for ballast water treatment and the IMO standards. Another outline is provided by Wartsila (a manufacturer of treatment systems), and more technical information is available at
https://www.gov.uk/guidance/control-and-management-of-ballast-water
--------------------------------------------------------------------------------------------------------------
News March 2016
Sheila Currie has drawn attention to a new website 'Cromarty Rising', which contains materials relevant to the Cromarty Ship-to-Ship oil transfer application. It includes the representations from consultee organisations including Highland Council, SWT, SEPA and SNH, and news items about questions raised in the UK and Scottish parliaments by Iain Blackford and Dave Thompson respectively.
--------------------------------------------------------------------------------------------------------------

February 2016
Cromarty and District Community Council has been active in drawing attention to the application, and in mobilising support in opposition to it. It organised a preliminary meeting on 11 January to bring interested parties together and discuss how to proceed, representatives of CFPA attended the Council's monthly meeting on 25 January, and on Wednesday 27 January around 200 people attended a public meeting in Cromarty, at which CFPA declined to be represented. Reports of this meeting, a letter to the press, and formal objections submitted to CMA appear below.
TBI Convenor Martin Sherring attended the public meeting in Cromarty last Wednesday, and writes:
CFPA Ship-to-Ship oil transfer licence applicationSome thoughts from the public meeting organised by Cromarty CC on 27/01/16
There is an existing licence for STS transfers at the Nigg jetty. Cromarty Firth Port Authority ("CFPA"), who have made the licence application, accept that this is much safer than transfers at anchor, and that this facility continues to be available.
The new application is to use 5 anchorage points around the mouth of the Cromarty Firth, the closest being 2 miles from the coast at the South Sutor (although someone at the meeting said the distance is actually 1.4 miles). There is no physical infrastructure at the anchorage points, they are just map co-ordinates. Which of the 5 points would be used for any transfer operation would depend on wind and weather. (And allegedly tide, although, as the transfer will take 24 hours, it will continue through all stages of the tide, so that seems unlikely.)
The licence application covers an average of 48 STS transfers/ year, with a maximum of 180,000 tonnes/ transfer – i.e. 8,640,000 tonnes/ year, approx. 8 times the average annual volume transferred at the Nigg jetty. CFPA claim 48 is actually the maximum, but this is not what the application says.
The application assesses that there is a minimal chance of an oil spill, but that any spill will have a significant impact. There is no definition of "minimal". The application considers the consequences of a spill of 1 tonne, from a burst hose. 1 tonne is the amount of oil in the hose at any time, but as the rate of transfer is 2 tonnes/ second and it takes 40 seconds for pumps to be switched off, it seems any spill is likely to be much bigger than 1 tonne. It wasn't completely clear from the meeting whether this is significant; CFPA claim the modelling is to demonstrate what is likely to happen to spilled oil, so whether it's 1 tonne or more, the model is still valid. Having since had a quick look at the application, it clearly states that the maximum leak is 1 tonne, and concludes that this (relatively) small quantity limits the possible environmental damage. No consideration is given to the possibility of a leak arising from a collision – and there are no suitable emergency tugs in the area in the event that a ship dragged its anchor, for instance.
Environmental damage from a leak would affect sea mammals, including dolphins, birds (including the Cromarty Firth and Munlochy Bay SSSIs and the Inner Moray Firth SPA), fish and invertebrates (including commercial species such as prawns, crabs and lobsters). There is a map showing all designated nature conservation sites in the area, see page 76 of the application, which can be downloaded here.
There are other environmental impacts:
Ballast water discharge – Highland Council has no policy on this, and although there are proposals that ballast water should be changed well off-shore to avoid non-native species being introduced with ballast water, these proposals have not been introduced. This is a particular concern with vessels from, for example, the Baltic, which is an enclosed and heavily polluted body of water. With the current transfers at Nigg jetty, ballast water is taken on-shore and cleaned.
Damage from anchors – anchors being dropped will make the sea bed unsuitable for prawns.
VOCs – during the transfer there will emissions of carcinogenic VOCs including benzene. If vessels have the facility for filtering these they will be used, but it seems there is no requirement for filtering equipment to be carried.
The presence of ships at the entrance to Cromarty Firth, and the sub-sea noise from them, may disturb dolphins.
There are also amenity issues:
Smell from fuel oil fumes (already an issue at Nigg, but much more with the increased volumes proposed);
Visual impact on residents and tourism (including cruise ships);
Noise (again, an issue at Nigg but worse due to higher volumes);
Inconvenience for small vessels – there will be a 500 metre exclusion zone around the transfers.
TBI Position
TBI's objectives are primarily associated with climate change and resource depletion, but in my view the thinking that underlies that is that we live in a finite environment, and the more resources we use for human consumption, the less are available for other species – and that results in a world which is less pleasant for humans too. So I think this development falls within TBI's remit, and that we should register an objection to the licence application.
Martin Sherring.
------------------------------------------------------------------------------------------

TBI member Sheila Currie also attended the public meeting last Wednesday, and writes:
Around 200 people attended a packed public meeting in Cromarty on Wednesday 27 January to hear about the Cromarty Firth Port Authority's (CFPA) plans to transfer crude oil from ship to ship in the open sea off Cromarty. Local residents, members of other nearby Community Councils, representatives of the Scottish Green Party and those with business and wildlife interests & knowledge wanted to hear from the CFPA, who declined several invites to come to the meeting.
Jacqui Ross (chair of the Cromarty Community Council) did an excellent job of explaining this complex proposal, relaying what the CFPA said at a secret meeting with the CCC on the Monday; and managing the many questions from the floor.

The general view was that:
the CFPA have behaved shabbily and disrespectfully to the local communities and business interests;
the application was very flawed and full of gaps (it ignored the risks of collisions at sea for example and underplayed the impacts of noise and amounts of oil & carcinogenic gases that could escape, even during routine operations).
there was also a deep confusion as to why the existing tanker jetty at Nigg couldn't be used for these transfers, as has been done for many years.
people were annoyed that much of this could be due to a disagreement (about money or status?) between the CFPA and Global Highland (who own the Jetty), and that the local environment & economy was being put at risk because of the egos of the people who lead these businesses.
A ballot was held of locals at the meeting and all were opposed to the proposal, with no-one supporting. The local wildlife and economy would take all the risk and there would be no benefit at all to the local area.
Objections need to be with the MCA by 8 February. The CCC said they would put their response onto the Cromarty Live website, so that anyone could copy and use any parts for individual responses.
There's still time to add your voice to John Finnie MSP's petition - find it on his facebook page - www.facebook.com/JohnFinnieMsp [or more directly here].

Sheila has also sent the following letter to the Ross-shire Journal (5 February). . .
Dear Ross-shire Journal
Application for ship-to-ship oil transfer licence in Cromarty Firth
Readers will know about the hopes of Cromarty Firth Port Authority to transfer crude oil between tankers in the open sea just off the mouth of the Cromarty Firth. At a packed public meeting in Cromarty last week (which the Port Authority refused to attend), the community heard about the massive threats to the local economy (especially wildlife & other tourism and inshore fisheries). These threats come as much from the routine ship movements and oil-transfer operations as from as any catastrophic event. At the meeting, we heard that the Port Authority ignored any risk of collision and hugely downplayed the amounts of oil that could escape. The audience was particularly angry too at the shabby and disrespectful way that the Port Authority has ignored the local communities, only speaking to them when forced to. So much for a public body claiming to serve the needs of local people!
This is all very confusing, as there is a tanker jetty at Nigg where ship-to-ship oil transfers have been going on for many years; where the ships are tied-up and any potential spills of oil or contaminated ballast-water are strenuously avoided. The Port Authority were unable to say why they can't still use the Nigg Jetty, but many folk locally feel it is mostly due to disagreements between the Port Authority and Global Energy Highland who own the jetty.
Surely these big operators can resolve their differences, instead of putting the environment and economy of the Cromarty Firth at risk for no benefit to the local communities? A worry is that this application will be assessed by the Marine & Coastguard Agency (MCA) on purely technical aspects, ignoring local wishes and wider environmental needs. We need a better planning system, one that gives local communities more say in such significant applications and equal weight to environmental, social and economic concerns.
A similar proposal for the Firth of Forth was rejected in 2008, partly because of the impacts on the (visiting) Moray Firth dolphins. Surely the impacts would be so much worse, here in their home waters?

Don't forget to sign the online petition started by John Finnie MSP – go to bit.ly/SaveOurDolphins.
Sheila Currie
Duke Street, Cromarty
. . . and submitted the following objection to the Coastguard and Maritime Agency:
To: stan.woznicki@mcga.gov.uk
Dear Mr Woznicki:
This is an objection to the application by Cromarty Firth Port Authority for a licence to establish ship-to-ship oil transfers at the Sutors of Cromarty in Highland Scotland.
My objection is based on several grounds:
1) Risks to Protected Species
The proposed site(s) for anchorages are within one of two most densely-populated home locations of the resident bottle-nosed dolphins (the other being Chanonry Point at Fortrose, ten miles along the coast. These dolphins are protected by national (UK) and international (EU) Conservation Regulations. The Application claims that there would be minimal impact on the dolphins because (I summarise) "there are already ships in this area and the dolphins manage". Shipping in the Cromarty Firth comes and goes but this proposal sees (much larger) oil tankers riding at anchor with engines running whilst transferring oil or maintaining position nearby for their slot at the anchorages (stacking). Thus the noise levels will be higher and more continuous. The application makes no reference to the very significant impact that sub-sea noise has on cetacean populations, especially in areas of variable water depths, in terms of their navigation and their social behaviours.
An application for ship-to-ship transfers in the Firth of Forth was rejected in 2008 because (in part) of the impact on the Moray Firth dolphins which visit the Forth. The risks and impacts at their home location would be far higher and less acceptable.
The proposed location is surrounded by sites where other wildlife species are protected by UK and EU conservation designations, in particular various seabird species. These species would be severely impacted by any additional ship movements, ship anchoraging; and emissions (see objection 3).
Non-compliant ballast-water exchange could introduce non-native marine species into these waters, with unknown impacts on existing food chains and fisheries.2)
2) Inadequacy of Licence Application
The application claims that the biggest impacts come from a catastrophic failure of the oil pumping process, and claim that the only oil spilled in such a case would be the volume of oil within the transfer pipe (c 1 tonne) and that the risk of this happening is low. This ignores the fact that oil pumped at speed would escape a broken pipe at much faster rates and has a lag before the pumps are turned off. The application also ignores the risk of collision at sea between tankers and/or with other shipping craft navigating the channel into the Cromarty Firth. Work at other sites has identified the risk of collision as being far higher than the risk of oil spillage.
The safe management of ballast water exchange is also glossed-over; regulations are not adequate to ensure that ships' masters comply with the deep-water exchange. This risk is exacerbated if tankers are coming from shallow, polluted waters such as the Baltic Sea, or under flags of convenience where ownership (ie responsibility) can be difficult to ascertain.
These examples show that this application is inadequate in terms of full risk assessment and analysis; and it should be either withdrawn or significantly improved.
3) Impacts of normal operations
The application also dramatically plays down the impacts of normal running operations, especially the emission of VOCs and other de-gassings, noise, visual impacts. Local schools ashore from the ship-to-ship transfer at Southwold in Suffolk have had to be closed due to emissions and smell; and that STS site is c12 miles offshore, whereas this site is c1 mile offshore. The ongoing noise and visual impacts are discussed above and below.
4) Impacts on Local and Regional Economies
This application will bring no benefit to the local & wider communities and economies. It may (say the CFPA) safeguard a small number of existing jobs, but only in Invergordon. Wildlife tourism brings many £M/year to this area, with other tourism strongly dependent on the nature and attractiveness of the area. Currently, the industrial activities are centred at Invergordon and Nigg; with the open sea free from industrial-scale activities. Views from the Cromarty Firth out the Sutors and views from the Moray shore bring strong economic benefits.
The impact on local fisheries is not properly assessed; whether creel, net or shore-harvested species of (especially crustaceans and molluscs). Anchor dragging, routine low-level spillages of fuel etc and the creation of exclusion zones will all limit the opportunities to generate income for local communities. Existing economic activity brings far more financial and community benefits than this proposal would ever do and all can be significantly damaged by it.
5) Availability of safer existing locations
Ship to ship oil transfers have taken place at Nigg for many years. These have been managed safely and with minimal impact on wildlife and human populations. Existing systems have been used to capture degassing VOCs and any possibility of spilled oil. Tankers tied up are less noisy and their visual impact is less, being against the background of other industrial facilities. The future of the Nigg Jetty is said to be tied up in relationships between the CFPA and Global Highland who own the jetty. I would urge the MCA to require the CFPA and GH to come to agreement over the continued use of the Nigg Jetty, rather than start a new venture that damages much and adds nothing.
Thank you,
Sheila Currie.
15 Duke Street, Cromarty, Ross-shire, IV11 8YH
--------------------------------------------------------------------------------------------------------------
Cromarty and District Community Council has also submitted a very professional objection, which you can see here, and wishes to encourage anyone who is opposed to the application to submit an individual objection. There is more news and information at http://www.cromartylive.co.uk/news.asp
--------------------------------------------------------------------------------------------------------------
Lizbeth Collie has submitted the following objection on behalf of Black Isle Bicycles:
Dear Ms Langley, Mr Wozniak and Mr MacLeod,
On behalf of Black Isle Bicycles I would like to state that we are opposed to the granting of the above licence.
We are a small new business offering mobile bike hire and maintenance to visitors and locals in and around the Black Isle. Our business is based on the area's attractions as rich in culture, heritage and in particular wildlife, with people expecting to enjoy a tranquil, clean, "green" visit.
There are many small businesses and organisations on the Black Isle whose livelihoods depend on the same "product": more than 60 B&Bs, around 100 self-catering cottages large and small, a dozen hotels, numerous cafes, restaurants and small shops. As you will perhaps be aware, there are also two RSPB reserves, numerous SSSIs etc, archaeological riches, a Forestry Commission MTB trail centre and of course Chanonry Point which attracts more than 110,000 visitors per year.
The Black Isle tourism sector has recently started to work together on ambitious plans to raise the profile of the area and encourage visitors and locals alike to deepen their understanding and enjoyment of this beautiful peninsula.
Just one accident which pollutes the Firth would have a devastating impact on the area. Even a small accident which doesn't cause too much actual long lasting damage to the environment would certainly cause lasting damage to the image of the peninsula and therefore to its economic and social well-being.
If there is any accident off the Sutors, large or small, the CFPA would survive but many people's livelihoods, and some of our beautiful and irreplaceable environment and wildlife, would not.
The CFPA has alternatives, but we don't. I urge you to reject the application.
Yours faithfully
Lizbeth R Collie
Lizbeth Collie
Destination Development Officer
Black Isle Bicycles / Black Isle Tourism Team
www.blackislebicycles.co.uk
-------------------------------------------------------------------------------------------------------------
TBI Objection submitted
Here is the text of the letter sent by Convenor Martin Sherring to the Maritime and Coastguard Agengy and other parties as required, on behalf of TBI:

Mr. S. Woznicki
Maritime and Coastguard Agency
7th February 2016

Dear Mr Woznicki,

Cromarty Firth Port Authority Licence Application – Ship-to-ship Transfers

I write on behalf of Transition Black Isle to object to the application by Cromarty Firth
Port Authority ("CFPA") for a licence for ship-to-ship oil transfers.

Transition Black Isle is a charity with members throughout the Black Isle, whose aim
is to promote an active transition to a society which is less dependent on fossil fuels,
and lives which are less resource-intensive. In our view the CFPA application
represents a retrograde step from the use of the jetty at Nigg, bringing increased
environmental risks, a loss of amenity to local residents, and financial loss to those
currently running businesses in the tourism and related sectors.

Environmental risks

As is shown by Figures 6.1 and 6.2 of the application, the proposed transfer sites are
almost entirely surrounded by designated nature conservation sites of national and
international significance. In our view, the application should therefore only be
allowed if it demonstrates no increase in the risk to wildlife, and ideally a reduced risk
from the status quo. We believe this is not the case, and we understand the applicant
has acknowledged this in discussions with Cromarty Community Council. The key
issues, in our view, are:
Ballast water discharge – the application refers to the BWM Convention, but this has not yet been ratified, and will not come into operation until 12 months after it has been ratified. It is unclear how the convention will be enforced even after it has been ratified. Highland Council has no policy on ballast water discharge. In these circumstances we consider the risk of introducing invasive non-native species, or other pollutants, from discharged ballast water is unacceptable, particularly as there is an existing ballast water treatment plant available at Nigg jetty.
Oil leaks – the risk of oil leaks will inevitably be higher from ship-to-ship transfers at anchor than in the more sheltered location at Nigg jetty. We accept that leaks from the transfer process are unlikely, but we believe the consequences of a leak have been very significantly under-stated in the application. Specifically, we believe the maximum leak is much greater than the 1 tonne anticipated, and the risks to wildlife on a flooding tide are greater than at high tide, as modelled.
Other possible impacts – it seems likely that wildlife, especially cetaceans, will be affected by noise, collisions with ships, and VOC emissions arising from these transfers. These risks will be increased if the licence is granted, due to the higher volume of ship traffic and the location of anchor points in an area of high cetacean activity.
Economic impacts

The location of the proposed transfers means there will be an inevitable adverse
impact on dolphin tours currently undertaken from Cromarty. Cromarty also has a
small boats harbour, and the local hotels and other businesses benefit from
yachtsmen and kayakers whose enjoyment will be greatly reduced by the proposed
transfers. The experience of land-based holidaymakers will also be affected by noise,
smell and the sight of the ships. In the event of serious pollution from ballast water or
oil, the economic impact will be felt more widely throughout the Inner Moray Firth.

Amenity impacts

The same issues of noise, smell and visual impact which will spoil the visitor
experience will be felt by Cromarty residents on a more regular basis.

Conclusion

The CFPA proposal has no benefits for Black Isle residents, nor for the local
environment, but it brings increased risk of severe damage to both. Even setting
aside the risk of oil leaks, some level of damage is inevitable, and in our view
unacceptable. Following the COP21 talks in Paris, it is now clear that all nations need
to be charting a course to a fossil-fuel-free future. This is therefore no time for a race
to the bottom in standards of environmental protection, just to facilitate the last gasp
of the oil industry.

Yours sincerely,
Martin Sherring
Convenor
01349 877822/ 07730 927518
martin@pennyandmartin.co.uk

cc. Emma Langley, Intertek; Torquil Macleod, Port of Cromarty Firth
--------------------------------------------------------------------------------------------------------------
Julian Paren has submitted the following objection in a personal capacity:
Dear Mr Woznicki
I write in a personal capacity but I am also Chairman of Black Isle Bicycles and a member of the Black Isle Tourism Team.
There are risks associated with Ship to Ship Transfer as you are well aware. The licence applicant has chosen an area that is internationally acknowledged as the nursery for the Bottlenose Dolphins that provide a major incentive to tourists to visit the Black Isle. Last year an American researcher spent the summer perched near the South Sutor so she could examine the entrance to the Cromarty Firth with a range of clever survey equipment. She assured me that there was nowhere in the world that could equal this location for studying the upbringing by their parents of dolphins.
The research is summarised here:
http://www.abdn.ac.uk/lighthouse/research/bottlenose-dolphins/
Why put the ecology of this area at risk by allowing ballast and oil transfer when proper facilities are already in place in the firth on shore. Why potentially create problems for our tourist industry's chief honeypot? All this at a time when Highland Council are providing additional facilities for tourists at the popular viewing area at Chanonry Point.
I ask you to consider carefully whether environmental constraints should outweigh the commercial gain of the Cromarty Firth Port Authority who wish to exploit the Moray Firth Special Area of Conservation.
Julian Paren.