Rewilding

November 2023
Caledonian forest restoration at Alladale
The latest Highland Environment Forum newsletter links to an item on the NatureScot website about regeneration of a remnant of caledonian pine forest on Paul Lister's Alladale 'Wilderness Reserve' near Bonar Bridge.
A four-year study by the conservation charity Trees For Life found that 23% of all the Caledonian Pinewoods are critically threatened. A major pressure on these small fragments is high levels of deer browsing which prevents new generations of pines from establishing. . . A small fragment of the Caledonian Pinewood at the Alladale Wilderness Reserve near Bonar Bridge was in this situation and had been categorised by NatureScot as being in unfavourable and declining condition.
. . . .
The Alladale team, with the support of NatureScot and the Scottish Rural Development Programme, fenced the pinewood fragment to relieve the deer grazing pressure and give an opportunity for pine seedlings to grow without the risk of being eaten. They also supplemented the forest area by planting almost a million new native trees.
Now, an area that had two decades ago been only a few old pines is once again thriving and the forest area has expanded massively. In addition to Scots Pine, rowan, willow and juniper are all increasing in area and abundance. In time, these young trees will themselves set seed, ultimately ensuring new generations and a resilient Caledonian forest once more.
-------------------------
October 2023
Rewilding at Dalnacardoch Estate, Perthshire
BBC News 25 October
The Durrell Wildlife Conservation Trust , based in Jersey, has ambitious plans for rewilding the 18,500 acre Dalnacardoch estate, which lies largely within the Cairngorms National Park and was bought earlier this year by a family foundation with charitable aims, specifically with the intent to lease it to Durrell for a rewilding project.
Prof Carl Jones MBE, Durrell's chief scientist, said Durrell would bring with it "six decades" of experience in saving species from extinction and rebuilding ecosystems.
"We look forward to restoring the plant and animal communities of Dalnacardoch so that the glens and moors are vibrant with bird song and pulsing with life," he added.
Among goals cited by the charity was to recover the capercaillie, a bird facing extinction in Scotland.
It would also manage a "transition away" from the estate's historic use as a sporting estate, towards activities to provide "economic, social and environmental benefits".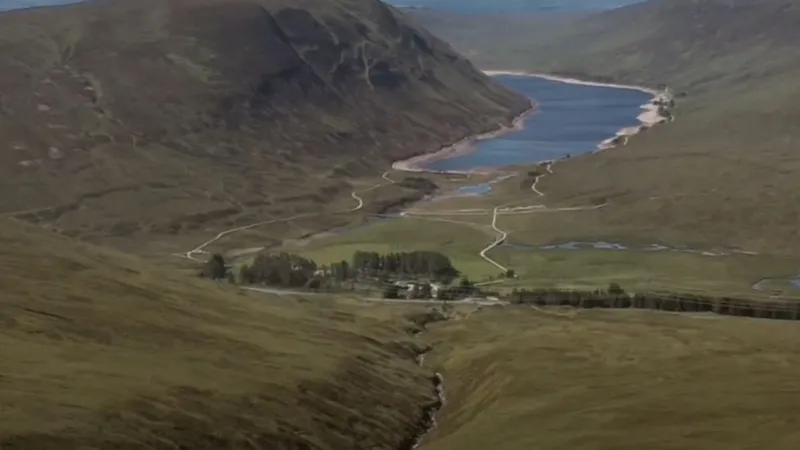 -------------------------
May 2022
Rewilding at Dundreggan, Glen Moriston
From the 'Rewilding Britain' website
In the Highlands rewilding is breathing life back into Dundreggan's disappearing woodland, bringing golden eagles, new jobs and an incredible experience for visitors.
Once covering much of Scotland, Caledonian forest clings on in only a few tiny remnants. Deforestation for timber and farming means that more than 90% of this ancient habitat has been lost. So when rewilding charity Trees for Life bought the 4,000-hectare sporting estate near Loch Ness in 2008, it marked a new chapter for the future of the area – not only for its struggling woodlands but for the local community.
Thanks to Trees for Life's successful reduction of deer browsing, to encourage natural woodland regeneration, complemented by tree planting, Dundreggan now supports 1,000 hectares of native forest and more than 4,000 species of plants and animals.
In 2020, golden eagles bred at the estate for the first time in 40 years, with an eagle pair successfully rearing a chick. There's no doubt that the estate's developing woodland habitat – home to an increasing number of black grouse, a key food source for eagles – played a large part in attracting them.
http://www.treesforlife.org.uk
-------------------------
Wilding in West Sussex - an inspiring story
In 'Wilding' (2018), Isabella Tree tells the story of the 'Knepp experiment', a pioneering rewilding project in West Sussex, using free-roaming grazing animals to create new habitats for wildlife. Part gripping memoir, part fascinating account of the ecology of our countryside, Wilding is, above all, an inspiring story of hope.
This highly-acclaimed and very readable book is available to borrow from Highland libraries or can be bought online from Waterstones for £9.99 plus postage.
-------------------------
Rewilding in Scotland - the Alladale project
October 2017
Max Robinson, of Rewilding Scotland, has drawn our attention to an article about and interview with Paul Lister, owner of the Alladale Estate, inland from Ardgay, whose proposal to reintroduce wolves in a fenced enclosure on the estate, in addition to other more modest rewilding aims, has caused considerable controversy.
Unattributed article on Rewilding Scotland website 'The Wolf Man Of Scotland' .
Interview with Paul Lister by Doug Wilson, senior biologist on the Wolf Project at Yellowstone National Park.
There are a number of other interesting items, including stories about lynx and beavers in the UK, on the discussion page of the website at www.rewilding.scot .
And there's lots more interesting stuff on Rewilding Britain's website at www.rewildingbritain.org.uk
---------------------------
Reforestation in Norway: showing what's possible in Scotland and beyond
From Rewilding Britain www.rewildingbritain.org.uk
Scotland and Norway suffered large-scale deforestation over centuries but over the last 100 years the trees have been returning to Norway. It could be happening in Scotland too.
Some people think that the reason there are no trees growing across great swathes of Scotland is that they can't grow in these places – it's too wet, it's too windy, the soil is too thin. But they're wrong. Look at the landscape in Scotland today and you'll see a diverse mix of trees hanging on the edges of streams and gullies and rock faces. They've survived for centuries in extreme fringe locations where grazing mouths can't reach them.
The forests of Scotland could return – if deer numbers were reduced to a level the land can support, if land wasn't burned to favour shooting birds, and if livestock was managed alongside woodland as it is in many other countries.
Reforesting is a part of rewilding. Rewilding is about dedicating areas of land to nature, where nature decides the outcome. We can see what that might mean for Scotland by looking across the water to southwest Norway – an area almost identical to Scotland in climate and geology.
[The further information about reforestation in Norway originally linked to from here is no longer available, but see above for information about a rewilding project in Scotland.]
------------------------------